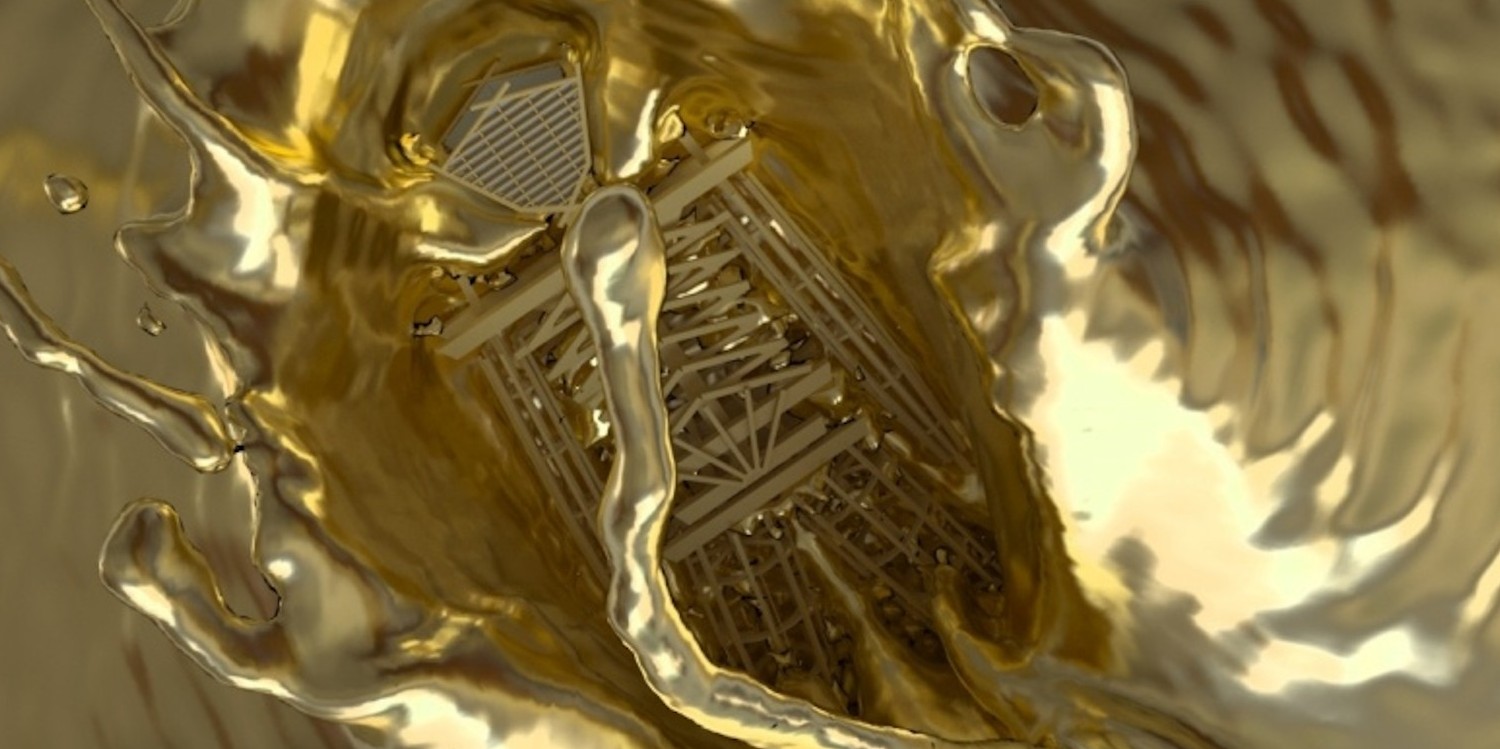 As Years Go By

History

First, here is a quick history of Burning Man for those who are not familiar with it. It started in 1986 when Larry Harvey and friends burned a wooden figure on Baker Beach in San Francisco. He did it partly because an ex-girlfriend had celebrated the summer solstice with a burn. A crowd gathered to enjoy the burn. He did it again the following year and the crowd grew. By 1990 the crowd had grown to the point that the park police intervened, so Burning Man moved to Black Rock desert in Nevada and to Labor Day weekend. Baker Beach in San Francisco is known as a nude beach so Burning Man continued the tradition by being clothing optional. The event continued to grow and groups of people turned their individual camps into artistic expressions. Burning Man became a temporary zone of total freedom and artistic expression. Burning Man is like Halloween, New Years Eve, Mardi Gras, and the Fourth of July combined into one, with an extra dose of wild individual expression added. People come to Burning Man to experience life to the fullest. The central motto is "NO SPECTATORS" which means you must join in the event, not sit back and watch. Create, live, be the experience-- or stay home.

1996

1996 was the year of my first Burning Man. I had wanted to go for a few years, but didn't want to go alone. Then a new psychiatrist became a post-doctoral fellow with my research group at UCSF. His wife worked at Wired magazine and it was part of the corporate culture of Wired, at that time, to attend Burning Man. He asked if I wanted to go with them. I jumped at the chance. I knew it would be a fantastic place to take 3-D photographs. There were about eight thousand people that year. We camped way out, almost a mile past the edge of the temporary city. We were even further out than "Yonder" camp, a group of people who always camped far from the crowd and crazies of the center city. When we got there it was hot, over 100 degrees. We set up our tents and made shade structures to stay out of the sun. Then we were hit with a windstorm and all we could do was retire to our tents to wait it out. At that point we all felt that this was a mistake; hot, windy, and no fun.
The wind died down after sunset. The friendly folks of Yonder camp came by and invited us to their cocktail party, and we started to understand how Burning Man is about community and friendship at least as much as it is about freedom of expression and creativity. Saturday night I saw the wonderful creative fun of the center camp and took in Pepe's opera. For years Pepe Ozan created an opera-dance-burn at Burning Man. Pepe developed exotic concepts and built a temporary stage on the playa, with ornate sculptures built into them. These performances had dozens of semi-nude dancers and singers and always climax with the burning of the stage. In 1996 the Burning Man theme was HELCO, a descent into corporate hell and the opera was like watching a live representation of Hieronymous Bosch's Garden of Earthly Delights painting. Pepe's operas always started late. While waiting I was moved by the warmth of the crowd. A young girl came by giving away hand decorated glow-in-the-dark stickers. It felt much like the spirit of the 60's counter culture had been mutated into a 1990's mentality. Hard edged yet spontaneous, honest, and with a strong sense of regard for the well being of others. The open sharing, creativity, and the dramatic landscape of the Black Rock desert dry lake bed combined to make our first Burning Man a very moving experience. We immediately started talking about next year.
1996 was the last year of true anarchy at Burning Man. Camping out at the edge was a little scary. Cars would fly by on the flat playa at very high speed. It was a little hard to get to sleep between the fear of being run over, and the constant thump of rave camps. One man died when, after drinking, he drove his motorcycle into a pickup truck. Two more people were seriously injured when a drunk driver ran over their tent. Things would have to change, there would have to be some rules.

1997

Things were very different. No driving. It was also on a smaller playa that was private property rather than the BLM public land. This led to many problems because now Burning Man was under the jurisdiction of a county government. The Burning Man organization was forced to pay hundreds of thousands of dollars for police and fire protection. The organization ended the event very much in debt and hard feelings developed between the landowners (Fly Hot Springs) and the BM organization. The constant presence of police and police helicopters was a little oppressive. Rules and police bothered the old timers who loved the total freedom that had always been a central feature of Burning Man. For many it was the last Burning Man, it had lost the real freedom of anarchy. It was also a great year for art, with some memorable large art installations, and more creative theme camps. It was becoming more of a standard that participation means creating something for all to enjoy. The event was changing and growing while retaining the core of "radical self-expression". In 1997 I tried to do too much. I volunteered to be a lamp lighter, a group of people who perform a public service by putting up temporary street lighting (kerosene lanterns). I also helped my psychiatrist friend set up a safe play space for children. 1997 was the last Burning Man for my psychiatrist friend.

1998

For 1998 the event moved back to Black Rock desert, but the rules only increased. Still it was a wonderful celebration of artistic and personal freedom. I became a full member of Yonder camp, not part of a smaller group. There was a little rain on Saturday and Pepe's opera was delayed till 3:00 am. Still the number of truly creative theme camps just about doubled and the spirit was strong. In 1998 the members of Yonder camp grew closer to Cultural Workers Union. In 1998 I put a lot of energy into shooting 3-D video using what was state of the art at the time, and a lot more energy into editing it later. Honestly, it was pretty bad.

1999

1999, was very much like 1998. There were more rules, the local county Health Department decided we can't play in public mud pits or have public showers. You can't give away any food unless you get a permit. Bureaucracy has invaded the temporary anarchy zone. Yonder camp grew even closer to Cultural Workers Union, and made closer friends with Kal Tramps and 10,000 Wonderful things. I shot a little more 3-D video. My "Church of the Slide Guitar" art piece was meant to be the location for a Sunday morning guitar recital, but Reverend Screaming Fingers decided not to come to Burning Man. High winds knocked down the church windows more than once, but I got one good photo of it. Two new Yonder camp members were married at 1999's Burning Man. It was very cold at night that year, which made some of the night activities less festive.

2000

In 2000 my usual camp-- Yonder Camp, dissolved. Whither Yonder? There was no Yonder. It seems that many of the principle founders of the camp have become disillusioned with the event. It is too crowded, too noisy, TOO MANY RULES! Yonder has always been about camping out away from the crowd. Since 1997 this has not been possible at Burning Man, you can't be way out yonder. About one third of the former Yonder-ites settled in with Camp Carp, a smaller group of former Cultural Workers Union and Yonder folks formed a camp called Tomales Bay Explorers Club. We were only 11 people, and that made a big difference. We got to know each other better than when we were part of the sprawling 80-100 person Yonder Camp. We were much closer and the time in camp meant more to us. It was probably my best Burning Man yet, even though I missed the burning of the man, Pepe's opera, and many other things. It seemed like I hardly got out to shoot any photographs. Somehow that didn't matter (and I did get some nice photos anyway :-)). The weather was the most extreme of any Burning Man; rain, wind, dust storms. We didn't care. The intense nature is part of the experience of Burning Man. Meanwhile, the rest of Black Rock City also had a great year. The wind and rain just added to the intensity.

2001

THE YEAR OF THE DUST! Yes, 2001 was extremely dusty. Most of the people from Tomales Bay Explorers Club of 2000 came back to form "3D Camera Obscura Camp". We had a great camp, but not quite as copasetic as we were in 2000. Once again the 3D Camera Obscura was not finished until late on Sunday. The dust was intense. There was no opera, but the burning of the man was nearly perfect. Again there were great art installations. Perhaps the best art installation was the Temple of Tears. Made from ornate wood cut outs, the building was a mausoleum. Burning Man participants wrote messages to lost loved ones on pieces of wood. On Sunday night the mausoleum burned and most of the thousands that watched were weeping. A very moving event. Here is a picture of me, taken by Jim Hair, after I wandered about in an early morning dust storm taking stereo photos. Notice the FED Stereo camera and the high SPF sun screen.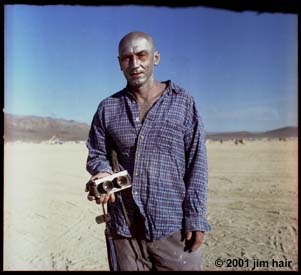 2002

The weather was perfect. Our camp was mellow. No 3-D Camera Obscura this year, but I brought 28 stereoscopic slides, each with an individual viewer in a display. People loved them. It was a lot of fun. Critical Tits was also fun. This year I went in all gold make-up. Then the next day I was once again all silver, as my Silver Man alter ego. Check this out if you have the nerve, you can see me in silver at Jim Gasperini's great collection of stereoscopic Burning Man images
Unfortunately, being covered head to toe in gold make-up may have contributed to my photographic disaster! When I reloaded my FED Stereo during the CT reception, I must have dropped some dirt or make up on the camera shutters. Although I could not tell, they were stuck. Everything I shot with that camera after Friday afternoon, eight rolls, came back blank. It really hurts to think of some the great shots that were lost. I'm proud to have contributed to Jeremy Lutes wonderful Lily Pond project, although my part was only a day or so of work. My son Julian helped a little too. So it hurt also to learn that someone stole some of the beautiful dragonflies and hand blown glass lilies. Theft and vandalism does not belong in the Burning Man community.
2003

Oh, what a year. Started out very bad. I couldn't find my camp mates. I got there on Wednesday, and had a general location of where our camp should be, but could not find it. So frustrating! I stopped for a while at Camp Carp. They couldn't tell me where my camp mates were. It is very unsettling not to be able to set up camp and relax. I decided to cruise by the camp called "Altar Nation" to visit some long time friends. The camp was close to Yonder back in 1998 and 1999 and I got to know some of the members of the camp. They also come out to Noman. I said "Hey, can I camp with you?" They said "Sure". Now I'm with a new camp. I settled down and put up my 3-D slide display. HOME! Wonderful. "Altar Nation" continues to camp out at the edge, like Yonder use to do. That meant that not very many people stopped to see my 3D slides, so on Saturday I moved them to Camp Carp on the Esplanade. It was so good. A great year overall. Oh, and Altar Nation is the camp never known as "critical tits." The camp name and theme changed every year, but was the camp that organized the ride and the after party.

2004

What would happen if you were sick at Burning Man? Well this year I found out. Fever, chills, headache, fatigue. Ugh. The event just happens and you go with it. Yet it isn't the same. Not as intense. Not enough energy to go out and explore. Did get some good pictures. Then there was the dust and wind, thankfully the weather was perfect from Friday through the end. We were the Outpost and Sedna Station. We had a good camp and a great party. It was fun to be Silverman again, always fun to get approval and complements. People enjoyed my 3D slide display at Camp Carp. Next year better health and more energy!

2005

A year of extreme highs and lows. The low started on Wednesday when my main stereoscopic camera (a FED Stereo) was stolen. Then I had two flat tires on my bike. Not a good day. I'm pretty sure the camera was stolen at center camp while I was installing my display of 3D slides. The camera had a full exposed roll of film including great shots of the fun house maze under the man. Damn! The loss of that camera severely restricted my ability to photograph the event, but I did my best using my Sony DSC-V1 twin digital stereo system, and a pair of twinned Pentax ZX-M cameras.
The high points included the great art, the fantastic and fun Critical Tits after party, and being Silverman on the playa with a fellow silver person, Benjamin Baker. I also had fun driving my remote controlled penis-mobile around center camp. It was about 3 times normal human size. It would zoom along and bump into someone then start shaking and playing music. That got a lot of laughs!
Also, This was my TENTH consecutive burn! Yeah!
2006

Wow, year number eleven. This year was very different for our camp. My camp is the camp that sponsors the Critical Tits (CT) ride and party. The camp has always had a different name each year, a name that had nothing to do with CT, until this year. Our name was TCNKCT (The Camp Never Known as Critical Tits). In 2005 our camp had close to 100 people. This year less than fifteen. Earlier in the year the women who organize the ride decided they wanted to change the after party. They didn't like that it was organized by a man, had a fence, and gate keepers who kept other men out. They also didn't like the erotic elements of the after party. So they decided to do the party on the open playa. Captain Erotica, who had coordinated the party, left the camp. So did his close friends. Change can be difficult.
The party was more open and participatory. Also less exclusive. A lot of women liked that the old style party kept most men out for a while. We built a giant bra and burned it after the party. Estimates of the number of women in the ride vary from 10 to 12 thousand! Thousands stayed for the party. It is amazing how just a handful of people can create something that big! It was a success, but next year it will be better. We have lots of ideas.

2007

The Green Man year. Very eventful, but also not as magical. It started with arson! I stayed up late on Monday to see the full lunar eclipse. I was photographing it when the neon went out shortly after the lunar eclipse was complete. They went off again then they stayed on and I noticed a man standing at the leg of the Burning Man figure. I wondered why he was there. Then I saw sparks. I thought "Why would they be welding when the neon is on? Then I realized that it was an arsonist starting the man on fire six days early. It was surreal. You look at it and go, "This is actually happening." The photographer next to me said "I hope they have a large fire extinguisher." I said it is too late, its going! Then chaos broke out and we were told "Get back!" I had to leave my bike behind. We watched the Man get a shower, then he was "charred man." The next day they wouldn't let me get my bike, the whole area was roped off. I got my bike back at about 5:30pm.
Wednesday I met up with my Chico friends and ran into Jar Jar, whom I had challenged to a fight in the Thunderdome. He felt that I had offended veterans with some anti-war statements I made on Tribe (an internet community). So we had a battle. It was fun, but the crowd cheered more for Jar Jar. He had all his friends cheer maybe. Hmmm...
Friday was the Critical Tits ride and party. I thought the party went great, but a dust storm made things dramatic. The art car A Cavallo helped a lot with their stage, and the band Albino really rocked the playa right through the dust storm! Then it ended and we had a glorious double rainbow! Saturday a newly constructed Man replacement was burned just as planned. The burn of the art piece Crude Awakening was quite spectacular! The fireworks were some of the best I've ever seen. Then when they burned the oil derrick tower they set off a HUGE fireball! It was something you don't soon forget.
The biggest art trend at Burning Man would be "steam punk." Steam punk is art based on the idea that the style and technology of the steam powered days is still around, but doing things they never did 100 years ago. It was well represented last year by the Neverwas Haul a three story Victorian mansion on wheels, this year it continued with steam powered vehicles and the wonderful Steam Punk Tree House. We had a lot of dust again this year. It made it hard to help disassemble the Neverwas Haul.
2008

The theme in 2008 was "The American Dream." I didn't like the theme at all! I didn't like the idea of making the event about just one country. Still the art was good. The burn was good too. The playa was awful. It was very soft. That made it difficult to ride a bike, and the dust was extreme. I had my stereoscopic photo/image display in center camp again.

2008 marked the last Critical Tits after ride party. The women and bras pulled off a good party, but the consensus is to not do it again. Instead, for 2008 there will be a ceremony celebrating women. The burn of the man was delayed by high wind and the fire spinning was called off. The burn of the temple went well, but as the fire died a huge dust storm hit that didn't let up all night. 2008 was not a great year, but every burn is life changing event.

2009

The theme was Evolution. A great theme and there was lot of good art. I again had my stereoscopic photo/image display in center camp cafe. My son Zolton attended Burning Man for the first time.

In 2009 the Critical Tits ride ended in a woman only ceremony. Not quite as festive. It was good to camp in Camp D'Nile, but our location was horrible for dust. The dust and wind just never gave us a break. I was suppose to help a crew working on 3D video of the event, but never found them. I think the main artist for that project never made it to the playa. I did get an inner circle pass to shot the burn.

The burn of the man was delayed for hours due to white out conditions. I became depressed and thought the Man would not burn. As I sat in camp I saw the flare go up and ran all the way to the Man (1.5 miles). Unfortunately everything went wrong. Both camera systems failed. My new Fuji W1 stereo camera was damaged by the dust and one lens stopped working. Then the switch that I made for my Canon A570 system stopped working. Thing can go wrong in the desert, and often.

2010

The theme was Metropolis. A celebration of everything city and urban. The first thing I experienced was the reality of creating a temporary city in a hostile desert. When I got to the playa, and waiting to get to the entry gate, it started to rain. We had a wonderful rainbow, but things slowed down. They stopped letting people in because of the mud. It took me over four hours to get from the main road to our camp.
I was again with Camp D'Nile and we had a great time. Better location with less dust! I did less this year, no display in center camp cafe. Wanted to take it easy.
Lots of good art again. Met some skeptics and we discussed doing a reason and evidence based event for next year. The burn went smoothly compared to last year. I was again gifted an inner circle pass to shoot the burn. In all a pretty good burn.

2011

Rites of Passage. Great year. It seemed like my past camp "D'Nile" was not going to be. Well it was, but in the meantime I joined the "Skeptical Bastards" camp. Just after I said I'd be with Skeptical Bastards I started helping to make the mutant vehicle "The Intergalactic Transporter," a project of Chico Urban Artist Collective. Although my contribution is little compared to others (Paul, Duane, Brian...) it was proof of the amount of work that goes into making Burning Man. After I got on the playa it was clear that I would be spending much more time with the Chico group than the Skeptics, so I moved.
This was my 16th year, also the sweet sixteen of the Critical Tits ride. I've been close to or part of the camp that organizes the event since 1998. This year the founding mothers decided that they can't continue to oversee the event. At an on playa meeting there was a long discussion about whether to be involved as grandparents offering advice, or just "let it go" and let whatever happens be without worry. We'll see what happens. I have not liked the ritual that dominated the end of the ride the last three years.
The weather was very good, almost perfect except that I miss the heat on the playa. About 10 degrees warmer both day and night and it would have been perfect. The playa conditions were the best I've seen in my 16 years, although there is still dust problems when you have 50,000 people turning the playa surface into dust.
2012

Fertility 2.0. Still not sure how it was different from fertility 1.0, but it was a good burn. Camped with the good folks of Camp D'Nile. Got some good photos, including some hyper-stereo shots. I left a memorial to my father at the temple. He died in 2012.

2013

Cargo Cult. I don't think very many people understood the concept of the theme. Not that it matters. Again with Camp D'Nile. The weather was exceptionally nice, although I would have liked it to be a bit warmer. Most days the highs were only in the mid 90's, but the evenings stayed warm till about midnight. In 2013 I used a six camera system for making lenticular prints. It was a challenge to ride my bike while hold an aluminum bar with six Canon G11 cameras attached, especially while naked and painted silver. I did crash three times, but didn't damage anything.

2014

The theme was Caravansary, which is about the mixing of culture through travel. Another great year of art. Camp D'Nile was mellow. My youngest son, Julian attended Burning Man for the first time. He had been to Noman many times but was never able to make it to the labor day event because of school. Had fun being Silver Man. Got some good 3D photos. Also got to spend some time in Reno. Yeah, we were driving to Black Rock on Monday and when we got to Reno the highway signs said that the gates were closed to Burning Man. What? Seems that there was some rain and cars/people were not being allowed into Black Rock City. We found out that the gates would probably open on Tuesday morning. So we booked a room at the fabulous Sands hotel. Julian only lost a little money at the Roulette wheel. We played putt-putt golf. I think of it as part of the Burning Man experience.

2015


My twentieth consecutive burn!
It was a good year, but there was a lot of anxiety about whether I would be able to complete 20 burns. When tickets went on sale in February I didn't get through. I didn't immediately get concerned because there was still STEP (Secure Ticket Exchange Program) and the OMG sale. Well there was nothing from STEP, then the OMG sale was another frustration. With just weeks before the burn I started to worry. I was lucky to have many contacts and my friend Sean put me in touch with a reliable source for a ticket. It is true that I could have bought a ticket for $800 during the "pre sale," nonetheless I felt like someone with 20 years of involvement shouldn't have to worry about getting a ticket.
Great art again, and lots of fun people. The weather was a bit chilly at night. There was drama on Friday. A huge wind/dust storm made life difficult Friday afternoon. The year 2015 was not just my twentieth, it was also the twentieth Critical Tits ride! It was important to me to continue my tradition of being Silver Man at the after party. Most of the week the afternoons had been peppered with brief periods of wind and dust. Unfortunately on Friday we had the worst wind and white out conditions I've seen in 20 years. At the usual time I applied my silver make up. Then the wind and dust started.
I decided to wait and see if it would calm down, so I visited my friend Rapunzel at camp Beer:30 and of course had some beer. The wind didn't die down much, but it was getting close to 4pm so I started off. As usual, I was naked, silver, and didn't bring goggles or dust masks. I headed in the direction of the giant woman statue R-evolution where the ride was going to end. Soon the dust was so thick that I couldn't see more than two feet in front of me. The wind was strong, maybe 30 to 40 mph and although the dust is very fine, it began to feel like I was being sandblasted. I had to walk my bike. After a while I realized that I might have gotten off course and could be lost. For the first time since 1996 I was concerned for my life at Burning Man. I decided to turn back. Just as I reversed direction something came into view. It was four women walking their bicycles. They were clearly part of the CT ride. The odd thing was that their path was perpendicular to mine!
I was lost and not sure if I was going in the right direction. I was barely able to see them and decided that it was better to be with others than to be alone and blind in a dust storm. So I started walking with them, we were five dusty travellers. I could barely keep them in my line of sight and I often closed my eyes from the pain of the dust blowing into them. After a while I realized there was only one woman. Now we were two fighting against the biting wind and dust. Conversation was limited to a few words. We just kept walking, for how long I couldn't tell.
Finally we came upon something. Some art installation that could provide a wind break. It had three wooden spires that provided a little protection. There was a couple already there taking refuge. I offered them the only thing I had to share, beer. The woman I'd been walking with gave each of us a new pair of cotton panties sealed in plastic bags. She had brought them to give to women at the CT after party. Now they could serve the purpose of a dust mask. We sheltered there for at least a half hour.
Then the dust cleared a little. We looked around and discovered that we were in deep playa not far from the 10:00 side of the city. We were more than a mile and a half from our destination! We walked back to center camp. I learned later that many riders got lost. Two separate small groups of women ended the ride, one group stopped at R-evolution, the other at the designated end point which was about 100 yards away. Apparently neither group could see the other. The 20th Critical Tits ride had the most harsh conditions of them all, and was not what anyone expected, but is one we won't forget!

2016

This was the year of accidents. If not for accidents 2016 would have been a great burn for me. The weather was good because the evenings were pleasantly warm. The art was fantastic, and as usual, sometimes hazardous. As the saying goes, "read the back of your ticket." The expression refers the statement on the back of Burning Man tickets that informs you that you assume responsibility for injury or loss of life. In other words you need to be responsible for yourself because this ain't some paternalistic realm where nothing bad can happen. Bad things can happen and if they do then you're to blame. My first accident was to accept a challenge to a footrace. No really. I was doing my usual Silver Man thing at the critical tits after party and foolishly accepted the challenge. Of course I had more than a few beers. I ran as fast as I possibly could, but I was not wearing running shoes, I was wearing silver plastic shoes with LED soles. So naked, silver, and wearing novelty shoes. Not the best way to run a race. Nonetheless, I ran full out and ran so hard that I fell and hit the playa, hard. No broken bones, but some bad scrapes that I just covered up with some more silver make up. That was a mistake too.
The second accident was more serious. The ticket warns you about your responsibility while at the event, but it doesn't warn you about what can happen on the way there, or after you leave. There are a lot of vehicular accidents on the way or leaving, and after about 30 safe trips to the playa, I had one.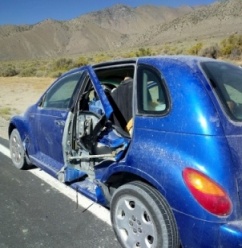 I had just gotten off the playa and traveled a couple of miles on county road 34, before Gerlach, when it happened. There are a lot of vehicles that breakdown when they leave the playa. Every time I would pass a disabled vehicle by the side of the road, I would move over a little to give them a lot of space. This time when I moved a little to the left on the two lane blacktop there was a huge truck that just happened to be trying to pass. The truck was going very fast. I became aware of that when I heard a loud bang and saw part of my car flying through the air. Basically the massive truck sideswiped me and ripped the driver side rear door off. It also dented most of that side of the car and took the side mirror off. I was not hurt at all, but more than a little shaken up.
After exchanging insurance info the truck drove off because it was blocking the road. I realized that although my car was really messed up, it was structurally sound. So I took my window covers and some duct tape and covered the damaged read door area. Then I drove the poor car all the way home to Berkeley, a mere 330 miles from the playa. That was the end of my trusty and reliable blue PT Cruiser. It served me well for 12 years and was my home on the playa for 12 burns and at least six fourth of July playa trips. The repairs would have cost more than $6,500 and the car was only worth $4,500. Time for another car. I took the insurance money, plus a few thousand from savings, and bought a used Prius. It is silver, which is very fitting for Silver Man.

2017

So Camp D'Nile could not deny that it was not a camp. Only a few of us got tickets this year. I hooked up with some great folks, mostly from Reno, known as Flaming Ugly Cowboy Saloon (FUCS). FUCS gives out the finest beer in Black Rock. Myself and my son Zolton had a great time. Although not everything was great. On our second day someone stole Zolton's bike. It was in the middle of our camp, and we left it alone, unlocked, for just a few minutes. Art was good, Critical Tits had a good ride and after party. The weather was great, if you like it hot. It was about 110 every afternoon, like it was in 1996, the best part was that it was warm at night and there were not a lot of dust storms and whiteouts. This year also saw wonton destruction of art and a suicide.

No Noman

One of the reasons some Yonder people decided to quit Burning Man is that they prefer the freedom of the old days. No rules. You take responsibility for yourself. In 1998 I joined a group of people, mostly Yonder and Cultural Workers Union, who meet out in the middle Black Rock desert and recreate the feel of the Burning Man of old. No city. No rules. NO MAN.
I suggested the name "Noman". A lot of the Yonder people don't like giving it a name because that makes it an "event" like Burning Man. I don't care. It provides the sense of freedom and connection with the desert that you can no longer get at Burning Man. We share good times and creativity on a smaller scale. Less art but more freedom. Some participants bring the projects that they are preparing for Burning Man. It supplements, but cannot replace the beauty and intensity of Burning Man. Noman is a great experience unto itself, but long burn Burning Man! Even Noman is changing. More people, TOO MANY, are coming out there on July 4th and it is getting harder to keep the Noman crew together.
I skipped Noman for many years, I went in 2011 and then again this year (2017). It wasn't too crowded because many people were scared off by reports that the playa was still flooded. It was in some places, and many cars got stuck. Maybe I'll get back next year. I still don't like the name "4th of Juplaya"!

State of the City

Larry Harvey has suggested that Burning Man is an experiment in spontaneous culture. It is a grand undertaking that is constantly evolving. To me the people at Burning Man represent a cross section of bohemian spirits that spans at least three generations, all expressing their uniqueness, but united by the freedom and acceptance of their free expression, and the act of sharing their creations. The biggest problem facing Burning Man is not the bureaucracy, or theft and vandalism; it is the people who act like yahoos and spectators. Yahoos are the drunken and irresponsible people who act like frat boys and don't respect other people or the fragile desert environment. They don't understand that to make such an event work everyone must respect and help everyone else. Spectators are the lazy people who just come to ogle the naked women (or men) and don't contribute to the event. If Burning Man can change the yahoos and spectators, and get them to really understand the event, then Burning Man will continue to be an important cultural phenomenon.
Update on State of the City.
The paragraph above was written sometime around 2002 or 2003, it's time for a follow up. This year (2017) there was a lot of destruction of art. The entire installation called "A Wood Turner's Dream" by Malcolm Tibbetts, was damaged, then after being repaired, it was deliberately destroyed. There were thousands of bikes abandoned on the playa. On just our second day on the playa, my son's bike was stolen. It was left unlocked and unattended just briefly, deep in the private area of our camp. Someone came into camp our looking for a bike to steal. There was also a suicide and an attempted suicide.
It would be easy to speculate that Burning Man has changed. That it doesn't have the same spirit of community. You have an event where people come together to share their art, to give gifts that move enrich the lives of others. People work hard and invest a lot of time and money for the enjoyment of others. It is hard to imagine that some people come to the event to take from others and destroy, but unfortunately many at the event do not care about the experiences of others. Clearly they don't get it. Somehow Burning Man has lost the sense of community, of family, that it once had. Why? Some point to the advent of "plug and play" camps that isolate the wealthy and make a mockery of the concept of radical self reliance. These all inclusive luxury camps tend to separate the wealthy from the rest, and implicitly turn their residents into spectators rather than participants. Then there is the idea of Burning Man as a "bucket list" thing, as something to do once, rather than a community that you might commit an ongoing interest. A possible contribution to both the theft of bicycles, and the abandonment of them, is the increasing number of burners from around the globe. These burners didn't pack a bike in their carry on luggage. So imagine you got a ticket through some plug and play camp and you fly in from Europe. You realize you don't have a bike, so you steal one and leave it behind. It just happens that my son and I were camped close to a large camp of international travelers, but who knows why the bike was stolen.
You could also blame antisocial behavior on the sheer size of the event. Sociologist know that behavior in small communities is more cohesive than in large cities. There isn't a strong sense of community or shared responsibility with 70,000 people. There is also the fact that the ticket price has increased from the $35 of my first burn, to over $560 with all the fees and vehicle pass. Such high cost tends to reinforce the idea that you should get something for your money, rather than promote an attitude of sharing. Maybe that results in fostering the perception that one is a consumer purchasing a product, rather than being a part of a family that is co-creating art and beauty.
Is it really the case that Burning Man has changed? That it has gone from an ideal tighly knit counter culture to a big city with thieves and vandals? Maybe nothing has changed. We tend to look back with rose tinted glasses, we remember things as better than they were. Actually, if you read my yearly comments you can see that I observed vandalism and theft as far back as 2002, and probably it has always been a part of Burning Man. Perhaps in the early days of "anarchy" theft and distruction was taken for granted. As examples, in 2002 there was theft and vandalism of Jeremy Lutes lilly pond art piece, and people applied stickers to fine art sculptures. My stereo camera was stolen in 2005 while I was installing my art.
Yet even if nothing has changed we would still want to have a Black Rock City with a strong feeling of community, and do everything we can to foster mutual respect and compassion. The big question becomes; what can we do to achieve those goals? Years ago I thought the key was a tighter hierarchical structure to the community, to reinforce a sense of personal responsibility. I'm not so sure that is a solution. We could more closely control "plug and play" camps and require them to provide bikes for all residents. If BMorg plans any think tanks or work groups on this issue, I'd like to be part of it.
On to Burning Man 2018!